Little Lions - 2 cream boys
$600.00 vet administered shots, neuter & supplies included
This litter has been very much anticipated. Just like last time, Tiger Lily had a littler of all boys! She usually has more than 3 kittens, and it shows - they are all well fed and loved balls of fluff.
They are white now, but their color will continue to darken to up to 4 years with a golden/pinkish hue. Because of the light cream color of the kittens we will not know the pattern for sure until they are almost ready to go home in the end of June.
Enjoy the pictures!
or call 720-222-2278 to see them!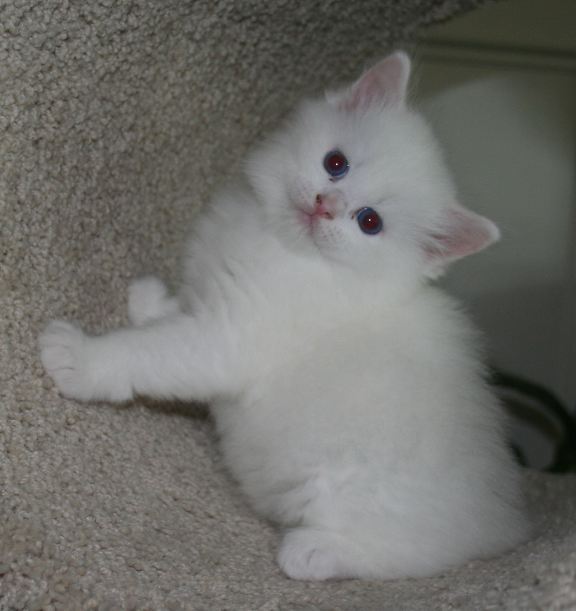 Leo
Cream Lynx mitted
Available
Leo is the largest kitten. Everything about him is large. His eyes, nose, ears, everything but his meow. I was very happy to see he is growing into all of his big features. I think he will be a big kitty. Leo was named for the MGM lion, which was a poor choice! His meow and purr is melodic - not loud and resonating like his father's. He is also a lynx - a tiger not a lion. I have never had a baby that I could tell the lynx pattern this early. Leo is simply a very good kitty. He plays nicely, is lovey and purrs. Very sweet baby.
Leo has grown into all his features and is remarkably soft. He will lay next to you and follow you around the house. He is very playful and is sneak attack kitty, but doesn't use his claws. Leo has grown into a magnificent baby. His large eyes are ice blue and expressive.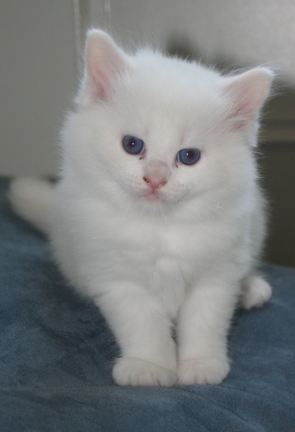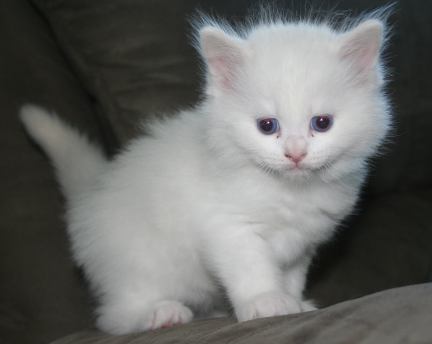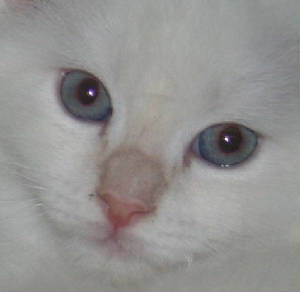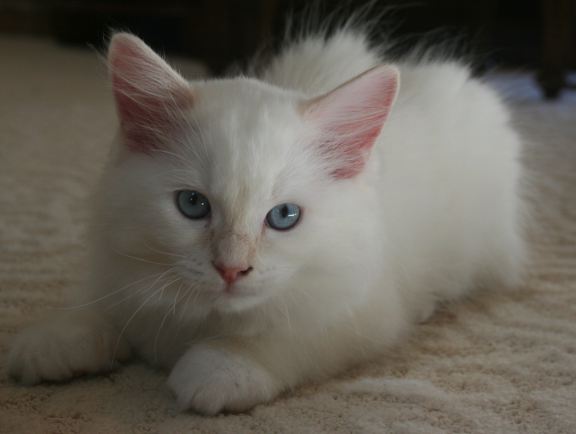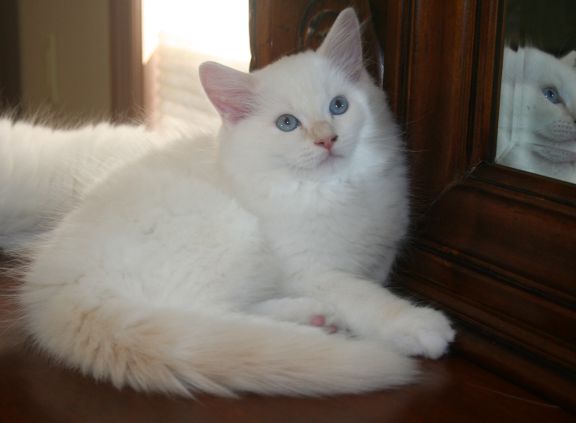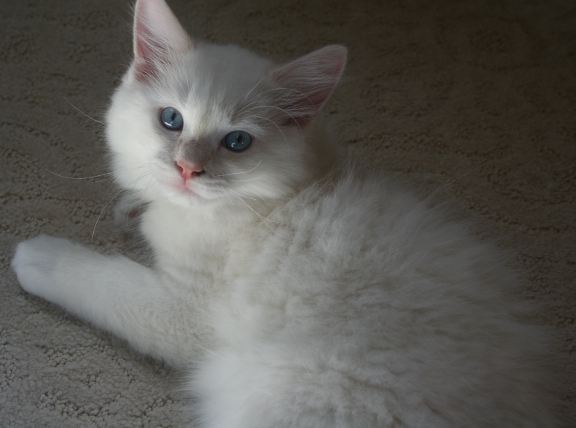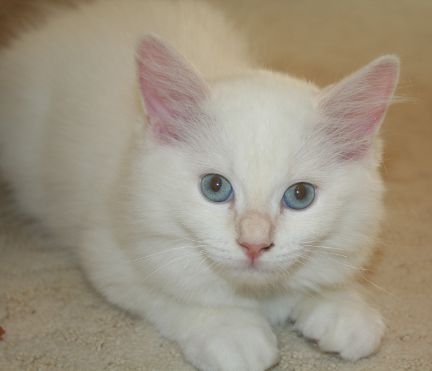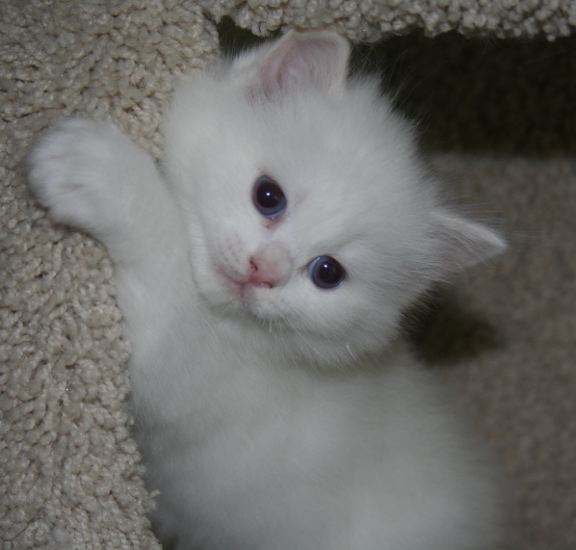 Aslan
Cream Bicolor
Available
Aslan has a sweet face. In Shrek, Puss in Boot's secret weapon is the "cuteness" face with very large eyes, as you can see from the pictures, so is Aslan's. He is a docile and limp kitten. He is solfter then the other kittens and show quality. His tail is shorter and very thick. He is a beauty. Beautiful, beautiful baby.
Aslan has dark saphire blue eyes in the shape of almonds. He is very light in color, almost no cream at all yet - all white baby. I think he is a bicolor. Aslan will come when you make eye contact and call him. Then he stays with you. Aslan is a lap cat in training, he will stay with you in your lap, but bound off attacking the next imagined kitty threat. A pretty pury boy.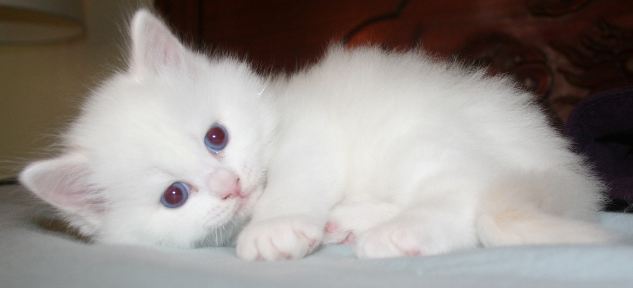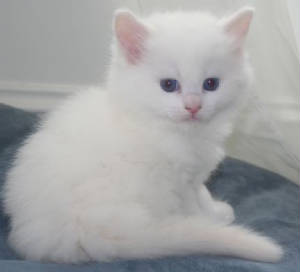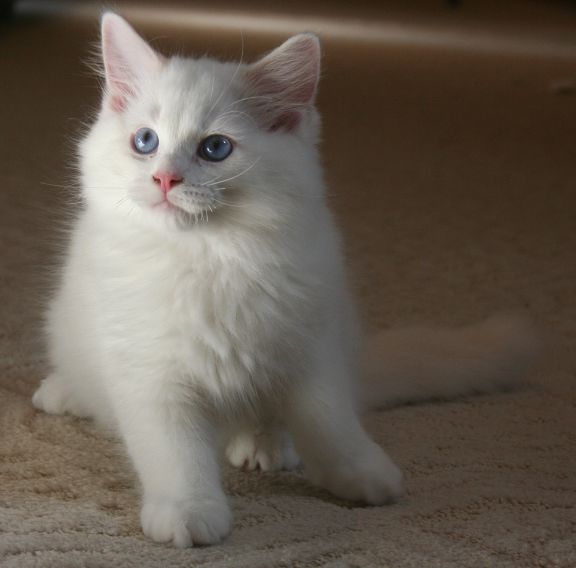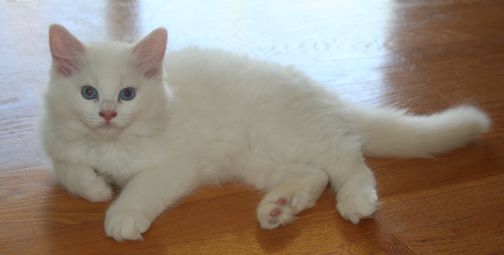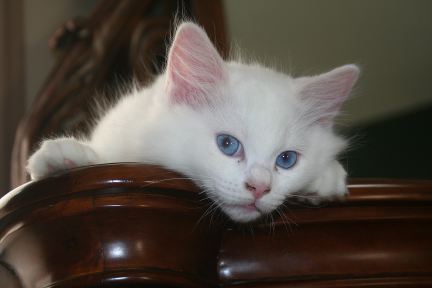 Why You Keep Pointing That Thing At Me - Funny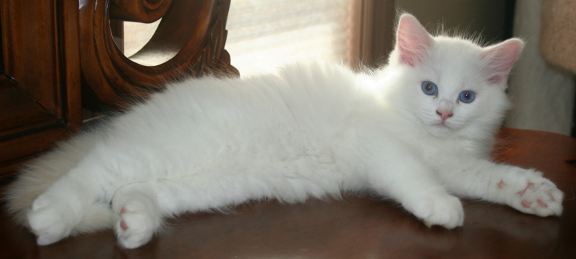 Simba
Cream Lynx Bicolor
Sold and home wiht Danica, Ryan, Sheri & Sophie
Simba has one mode - ON. and on and on and on. He loves his attention. When you open the door he comes running, sometimes with an excited little meow. He rubs his head against you insisting on affection, pushes the other kittens out of the way for his due. He is afraid of nothing and loves people. Simba is very playful, people are for playing as much as loving. He is a very affectionate and rambuncious kitten. He has a very small nose and face, a more danity kitty look. Taking pictures of him was difficult - he never was still and running off to attack the next imagined threat.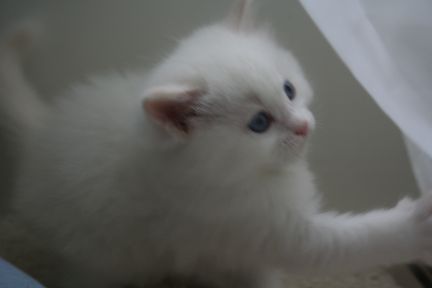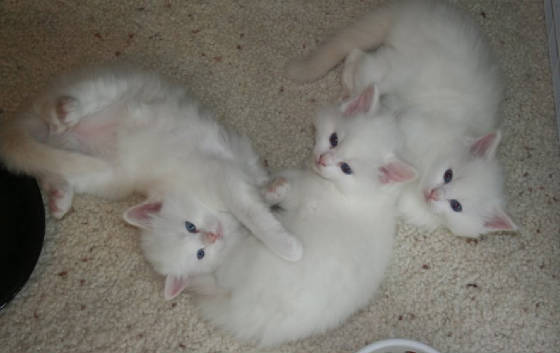 | | | | | | | | | |
| --- | --- | --- | --- | --- | --- | --- | --- | --- |
| Little Lions | Kitten | Birth 3/25/2012 | Day 2 | Day 3 | Day 4 | Day 5 | Day 6 | 4/19/2012 |
| | Leo | 110 grams | 127 grams | 148 grams | 174 grams | 186 grams | 213 grams | 480 grams |
| | Aslan | 108 grams | 127 grams | 144 grams | 172 grams | 184 grams | 207 grams | 465 grams |
| | Simba | 107 grams | 124 grams | 136 grams | 162 grams | 182 grams | 201 grams | 448 grams |